Soundtrack | Final Fantasy VII: Advent Children | Kenichiro Fukui, Nobuo Uematsu, Keiji Kawamori, Tsuyoshi Sekito (2005)
Саундтрек | Последняя фантазия 7: Дети пришествия | Нобоу Уематцу (2005)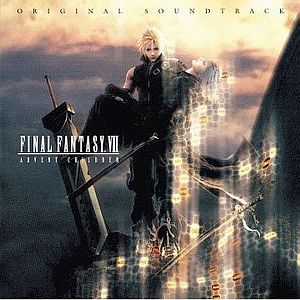 CD1
1. Opening
2. The Promised Land
3. Beyond The Wasteland
4. Sign
5. Tifa's Theme (Piano Version)
6. For the Reunion
7. Those Who Fight (Piano Version)
8. Water
9. Materia
10. Black Water
11. Aerth's Theme (Piano Version)
12. Battle in the Forgotten City
13. Violator
14. Great Northern Cave (FFVII AC Version)
CD2
15. Divinity I
16. Tatakau Monotachi (FFVII AC Version)
17. Those Who Fighter Further (FFVII AC Version)
18. Divinity II
19. Encounter
20. The Chase of Highway
21. Savior
22. J-E-N-O-V-A (FF7 AC VERSION)
23. Advent: One-Winged Angel
24. Cloud Smiles
25. End Credits
26. Calling

Bitrate: 320Kbps
Size: 203Mb

Download soundtrack | Скачать саундтрек (Depositfiles.com)

О том как качать с файлообменников читаем в разделе «Справка».
ПАРОЛЬ | PASSWORD: www.filmmusic.ru
About this movie

Об этом фильме
Buy this CD

Купить этот CD
---
---