Soundtrack | Star Wars Episode III: Revenge of the Sith | John Williams (2005)
Саундтрек | Звездные войны Эпизод III: Месть Ситхов | Джон Уильямс (2005)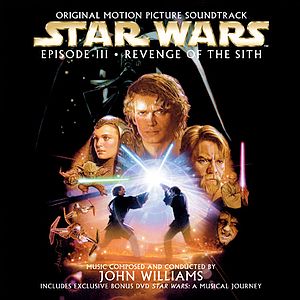 01. Star Wars and The Revenge Of The Sith
02. Anakin's Dream
03. Battle Of The Heroes
04. Anakin's Betrayal
05. General Grievous
06. Palpatine's Teachings
07. Grievous and the Droids
08. Padme's Ruminations
09. Anakin vs. Obi-Wan
10. Anakin's Dark Deeds
11. Enter Lord Vader
12. The Immolation Scene
13. Grievous Speaks to Lord Sidious
14. The Birth Of The Twins and Padme's Destiny
15. A New Hope and End Credits


Download soundtrack | Скачать саундтрек (Depositfiles.com)

О том как качать с файлообменников читаем в разделе «Справка».
ПАРОЛЬ | PASSWORD: www.filmmusic.ru
---
---