The Mancini Touch | Henry Mancini (1960)
The Mancini Touch | Генри Манчини (1960)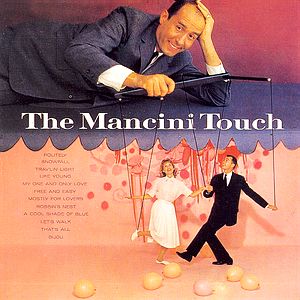 01. Bijou (Ralph Burns)
02. Mostly For Lovers (Henry Mancini)
03. Like Young (Andre Previn)
04. My One and Only Love (Robert Mellin/Guy Wood)
05. Politely (Henry Mancini)
06. Trav'lin' Light (Mercer/Mundy/Young)
07. Let's Walk (Henry Mancini)
08. Snowfall (Claude Thornhill)
09. A Cool Shade of Blue (Henry Mancini)
10. Robbin's Nest (Sir Charles Thompson/Illinois Jacquet)
11. Free and Easy (Bobby Troup/Henry Mancini)
12. That's All (Bob Haymes/Alan Brandt)

Bitrate: 256Kbps
Size: 72Mb

DOWNLOAD | СКАЧАТЬ (Rapidhare.com)
DOWNLOAD | СКАЧАТЬ (iFolder.ru)
DOWNLOAD | СКАЧАТЬ (Depositfiles.com)

О том как качать с рапидшары читаем в разделе «Справка».
PASSWORD: www.filmmusic.ru
About this CD

Об этом диске
---
---