Soundtrack | Blade Runner Trilogy: 25th Anniversary Special Edition | Vangelis (1982)
Саундтрек | Бегущий по лезвию бритвы: юбилейное издание к 25-летию фильма | Вангелис (1982)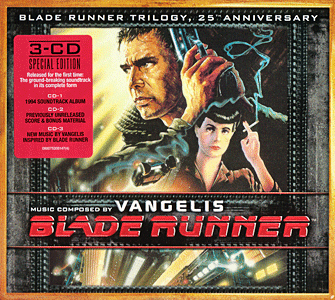 Disc: 1
01. Main Titles
02. Blush Response
03. Wait For Me
04. Rachel's Song
05. Love Theme
06. One More Kiss, Dear
07. Blade Runner Blues
08. Memories Of Green
09. Tales Of The Future
10. Damask Rose
11. Blade Runner (End Titles)
12. Tears In Rain
Disc: 2
01. Longing
02. Unveiled Twinkling Space
03. Dr. Tyrell's Owl
04. At Mr. Chew's
05. Leo's Room
06. ONE ALONE (Bonus Track)
07. Deckard And Roy's Duel
08. Dr. Tyrell's Death
09. Desolation path (Bonus Track)
10. Empty Streets
11. Mechanical Dolls
12. Fading Away
Disc: 3
01. Launch Approval — Scott Bolton, Bryce Bolton
02. Up And Running — Sir Ridley Scott
03. Mail From India — C. Lambrakis
04. BR Downtown — Oliver Stone, Akiko Ebi, Cherry Vanilla
05. Dimitri's Bar — Akiko Ebi, Oliver Stone, Dimitris Tsakas
06. Sweet Solitude — Dimitris Tsakas
07. No Expectation Boulevard — Rutger Hauer, Wes Studi, Bhaskar Balakrishnan
08. Vadavarot — Irina Valentinova, Florencia Suayan Tacod
09. Perfume Exotico — Edward James Olmos
10. Spotkanie Z Matka — Roman Polanski
11. Piano In An Empty Room
12. Keep Asking — Bryce Bolton

Bitrate: 320Kbps
Size: 397Mb
CD 1 features the original and remastered soundtrack as it first appeared in 1994, twelve years after the film was released. CD 2 contains all the remaining music from the film that did not appear on the original 1994 soundtrack, plus two bonus tracks ('One Alone' and 'Desolation Path'). None of this material has been released before. CD 3 will be of real interest to Vangelis fans, as it contains an entire album of newly written material composed by Vangelis to mark the 25th anniversary of Blade Runner. The music is strong and flowing, and retains the dark, atmospheric sense of the original score. There are some intriguing spoken word contributions too, from Ridley Scott, Roman Polanski, Oliver Stone and a host of distinguished actors, personalities and world dignitaries.

DOWNLOAD SOUNDTRACK | СКАЧАТЬ САУНДТРЕК (Depositfiles.com)

О том как качать с рапидшары читаем в разделе «Справка».
PASSWORD: www.filmmusic.ru
About this movie

Об этом фильме
About this CD

Об этом диске
---
---