Soundtrack | Dances with Wolves (Extended) | John Barry (1990)
Саундтрек | Танцы с волками (Танцующий с волками) | Джон Барри (1990)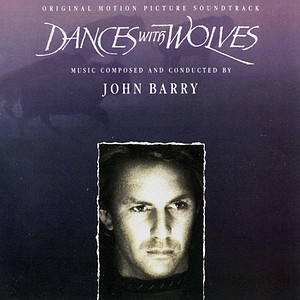 01. Main Title, Looks Like A Suicide
02. Ride To Fort Hayes
03. Journey To Fort Sedgewick, Shooting Star, John Dunbar Theme, Arrival At Fort Sedgewick
04. The John Dunbar Theme
05. The Death Of Timmons
06. Two Socks, The Wolf Theme
07. Stands With A Fist Remembers
08. The Buffalo Robe
09. Journey To The Buffalo Killing Ground
10. Spotting The Herd
11. The Buffalo Hunt (Film Version)
12. Fire Dance
13. Two Socks At Play
14. Falling In Love
15. Love Theme
16. The John Dunbar Theme
17. Pawnees, Pawnee Attack, Stone Calf Dies, Toughest Dies
18. Victory
19. The Death Of Cisco
20. Rescue Of Dances With Wolves
21. The Loss Of The Journal, The Return To Winter Camp
22. Farewell, End Title
23. The Buffalo Hunt (Album Version)
24. The John Dunbar Theme (Film Version)

Bitrate: 320Kbps
Size: 207Mb

PART 1 | ЧАСТЬ 1 (Depositfiles.com)
PART 2 | ЧАСТЬ 2 (Depositfiles.com)

О том как качать с рапидшары читаем в разделе «Справка».
ПАРОЛЬ | PASSWORD: www.filmmusic.ru
About this movie

Об этом фильме
Buy this CD

Купить этот CD
---
---