Soundtrack | Tarantino Experience, The: Ultimate Tribute to Quentin Tarantino [6 CD Box Set] | Various Artists (2008)
Саундтрек | Tarantino Experience, The: Ultimate Tribute to Quentin Tarantino | Разные исполнители (2008)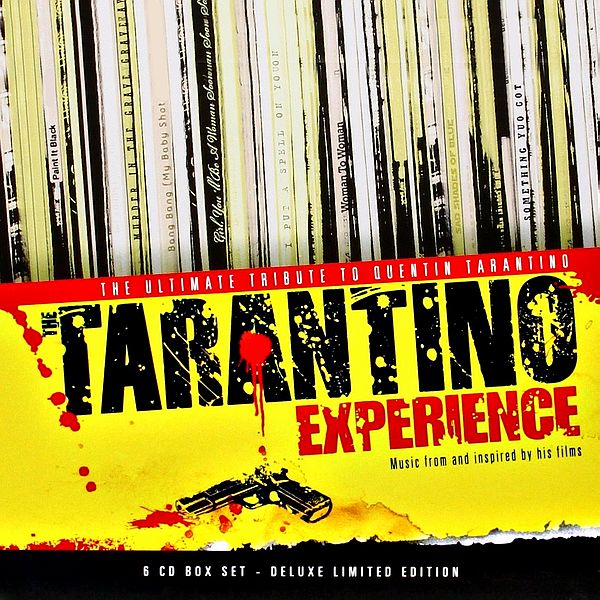 Volume 1
CD 1
01. Bang Bang (My Baby Shot Me Down) (Nancy Sinatra)
02. Girl, You'll Be a Woman Soon (Urge Overkill)
03. Always on the Telephone (Ladybug Transistor)
04. Out of Limits (The Hurricanes)
05. Sad Shades of Blue (Geater Davies)
06. Woman to Woman (Joe Cocker)
07. I Put a Spell on You (Screamin' Jay Hawkins)
08. Pipeline (The Surf Coronados)
09. Fever (Billie Jo Spears)
10. Paint it Black (Chris Farlowe)
11. Murder in the Graveyard (Screamin' Lord Such)
12. Rebel Rouser (Duane Eddy)
CD 2
01. Misirlou (Dick Dale & The Del-Tones)
02. Ghost Riders In The Sky (Fendermen)
03. Spooky (Dennis Yost & Classic IV)
04. Look-ka-py-py (The Meters)
05. Something You Got (Wilson Pickett)
06. Indian Giver (191 Fruitgum Co.)
07. Me and You and a Dog Named Boo (Lobo)
08. Midnight Confessions (The Grass Roots)
09. Judy in Disguise (John Fred & His Playboy Band)
10. Deep Purple (Nino Tempo & April Stevens)
11. Apache (Richard Twang & His Cadillacs)
12. I Walk the Line (Johnny Cash)
Volume 2
CD 1
01. Intro (Twisted Nerve)
02. Let's Stay Together (Al Green)
03. Backstabbers (Clarence Carter)
04. That Certain Female (Charlie Feathers)
05. Born To Lose (Johnny Cash)
06. Stupid Cupid (Connie Francis)
07. Wipeout (The Surfaris)
08. I Should Have Known Better (She & Him)
09. Louie Louie (The Kingsmen)
10. Little Things (Dave Berry)
11. I Want You To Be My Baby (Billie Davis)
12. Boom Boom (John Lee Hooker)
CD 2
01. I'm Troubled (Golden Gate Quartet)
02. Sweet Jane (Cowboy Junkies)
03. Cannonball (Duane Eddy)
04. Jeepster (T.Rex)
05. Love Potion Nº 9 (The Clovers)
06. Beatnik Fly (Johnny & The Hurricanes)
07. The 'In' Crowd (Dobie Grey)
08. Don't Let Me Be Misunderstood (Leroy Gomez & Santa Esmeralda)
09. Letter To Heaven (Dolly Parton)
10. I'm Gonna Knock On Your Door (Eddie Hodges)
11. Stand By Your Man (Lynn Anderson)
12. Somebody In My Home (Howlin' Wolf)
Volume 3
CD 1
01. L-o-v-e (Love) (Al Green)
02. I Gotcha (Joe Tex)
03. I Can't Hardly Stand It (Charlie Feathers)
04. Billy's Bag (Billy Preston)
05. Willie And The Hand Jive (Johnny Otis)
06. Hercules (Aaron Neville)
07. Doin' It (Richard Berry)
08. Mambo Miam Miam (Serge Gainsbourg)
09. Walk Don't Run (The Ventures)
10. So Doggone Lonesome (Johnny Cash)
11. Shake, Rattle & Roll (Big Joe Turner)
12. Chewy, Chewy (Ohio Express)
CD 2
01. Singing The Blues (Guy Mitchell)
02. How High The Moon (Les Paul & Mary Ford)
03. Johnny Remember Me (The Meteors)
04. Don't Want You No More (The Spencer Davis Group)
05. A Moment Isn't Very Long (Willie Nelson)
06. John, I'm Only Dancing (Polecats)
07. Down In Mexico (The Coasters)
08. Choo Choo Ch'boogie (Louis Jordan)
09. Night People (Lee Dorsey)
10. Mystery Train (Wanda Jackson)
11. Ward 81 (Fuzztones)
12. Worried Man Blues (Woody Guthrie)

Bitrate: 320Kbps
Size: 623Mb

DOWNLOAD SOUNDTRACK | СКАЧАТЬ САУНДТРЕК (Depositfiles.com)

ПАРОЛЬ | PASSWORD: www.filmmusic.ru

О том как качать с файлообменника читаем в разделе «Справка».


About this movie

Об этом фильме
About this movie

Об этом фильме
About this movie

Об этом фильме
---
---