Soundtrack | Airplane! | Elmer Bernstein [Limited Edition] (1980)
Саундтрек | Аэроплан | Элмер Бернстайн (1980)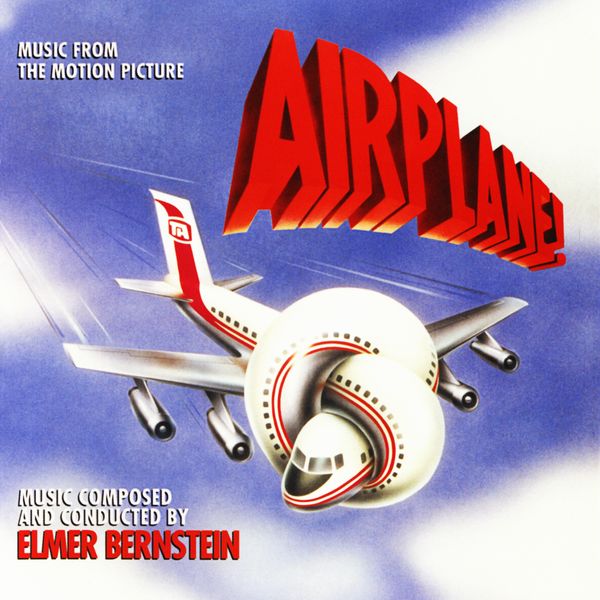 01. Main Title. Contains "Theme from Jaws" by John Williams
02. Kiss Off
03. Ambulance Arrives
04. Hari Krishna/Ticket/Nervous
05. Lisa/Farewell/Take Off/ Another Meeting
06. Fighting Girls
07. Love Theme from AIRPLANE!
08. From Here to There
09. Head/Memory
10. Shimmer/Molumbo
11. Zip/Eggs/Roger, Take Over
12. Wild Violins/Sickness/Idea
13. Thar She Blows!/Flash/Panel
14. "Where the Hell is Kramer?"/Trouble
15. Mayday
16. Punch-Up/Kramer
17. Clumsy
18. Dog Fight/Failure/Pep Talk/ Notre Dame Victory March/Master. Contains "Notre Dame Victory March" by Michael J. Shea, J.H. O'Donnell & John F. Shea
19. News
20. "Runway is Niner"/"The Gear is Down and We're Ready to Land"
21. Crasher
22. Resolution/Tag. Contains "1812 Overture, Op. 49" by Peter Tchaikovsky
23. Notre Dame Victory March. Michael J. Shea, J.H. O'Donnell & John F. Shea
BONUS TRACKS:
24. Tavern
25. Everything's Coming Up Roses. (Stephen Sondheim and Jule Steyn, Arr. Elmer Bernstein)
26. Instruments
27. Disco
28. Kiss Off (Alternate)
29. Fighting Girls (Alternate)
30. From Here to There (Instrumental)
31. Molumbo (Alternate)
32. Zip (Original Version)
33. News (Alternates)
34. Dog Fight (Short Version)
35. "Runway is Niner" (Alternate)
36. "The Gear is Down and We're Ready to Land" (Alternate)
37. Tag (Instrumental). Contains "1812 Overture, Op. 49" by Peter Tchaikovsky.

Bitrate: 320Kbps
Size: 271Mb

DOWNLOAD SOUNDTRACK | СКАЧАТЬ САУНДТРЕК (Depositfiles.com)

ПАРОЛЬ | PASSWORD: www.filmmusic.ru

О том как качать с файлообменника читаем в разделе «Справка».


About this movie

Об этом фильме
About this CD

Об этом диске
---
---