Soundtrack | The Goonies [25th Anniversary Edition] | Dave Grusin (1985)
Саундтрек | Балбесы | Дэйв Грузин (1985)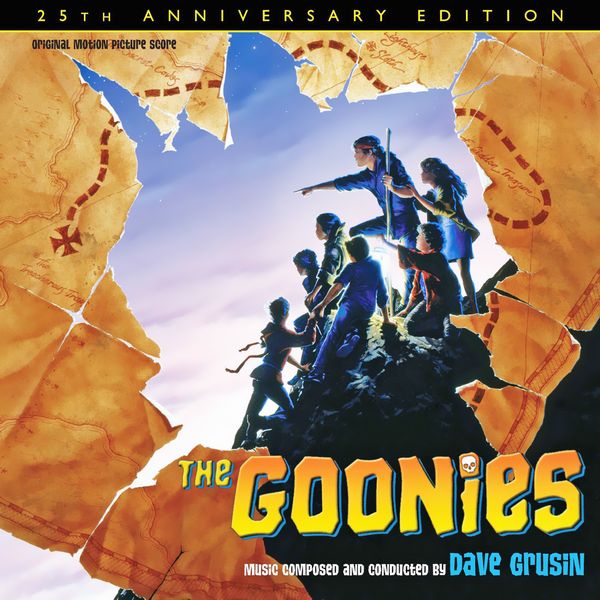 01. Fratelli Chase
02. Map and Willie
03. The Goondocks (Goonies Theme)
04. Doubloon
05. Lighthouse
06. Cellar and Sloth
07. Restaurant Trash
08. The 'It,' Fifty Dollar Bills and a Stiff
09. It All Starts Here
10. Plumbing
11. Skull and Signature
12. Boulders, Bats and a Blender
13. Wishing Well and the Fratellis Find Coin
14. Mikey's Vision
15. Oath and Bobby Traps
16. Triple Stones and a Ball
17. Pee Break and Kissing Tunnel
18. They're Here and Skull Cave Chase
19. Playing the Bones
20. Water Slide and Galleon
21. Octopus
22. The Inferno
23. One Eyed Willie
24. Treasure, Data & Mouth, and Walk the Plank
25. Sloth & Chunk
26. Mama & Sloth
27. The Fighting Fratellis, Sloth's Choice and Ultimate Booby Trap
28. The Reunion and Fratellis on Beach
29. No Firme and Pirate Ship
30. End Titles (Goonies Theme)
31. Fratelli Chase [original version]
32. Triple Stones and a Ball [original version]
33. They're Here and Skull Cave Chase [original version]
34. Octopus [original version]
Bonus tracks
35. The Goonies 'r' Good Enough [Dance Remix] (Cyndi Lauper)
36. The Most Amazing Thing Chunk Ever Saw (Dialogue)
37. Eight Arms To Hold You (Good Squad)
38. The Story Of One-Eyed Willy (Dialogue)
39. Love Is Alive (Philip Bailey)
40. Mikey's First Speech (Dialogue)
41. I Got Nothing (The Bangles)
42. They've Got An It (Dialogue)
43. 14K (Teena Marie)
44. Home, What Home (Dialogue)
45. The Goonies 'r' Good Enough (Cyndi Lauper)
46. Chunk's Tale (Dialogue)
47. Wherever You're Goin' (It's Alright) (Reo Speedwagon)
48. I'm Takin 'em All Back (Dialogue)
49. She's So Good To Me (Luther Vandross)
50. Mikey's Second Speech (Dialogue)
51. What A Thrill (Cyndi Lauper)
52. Chocolate! (Dialogue)
53. Save The Night (Joseph Williams)
54. Chunk Meets Sloth (Dialogue)
55. The Goonies 'r' Good Enough [Dub Mix] (Cyndi Lauper)
56. Sloth Loves Chunk (Dialogue)
57. Theme From The Goonies (Dave Grusin)
58. No Signing Today (Dialogue)

Bitrate: 320Kbps
Size: 396Mb

DOWNLOAD SOUNDTRACK | СКАЧАТЬ САУНДТРЕК (Depositfiles.com)

ПАРОЛЬ | PASSWORD: www.filmmusic.ru

О том как качать с файлообменника читаем в разделе «Справка».


About this movie

Об этом фильме
About this CD

Об этом диске
---
---